We have offerings for skilling candidates at every stage of their journey
We've enabled candidates with minimal education to attain ~ Rs. 3-4 lakh annual salaries through our programs. NEP 2020 throws new opportunity @skills at Schools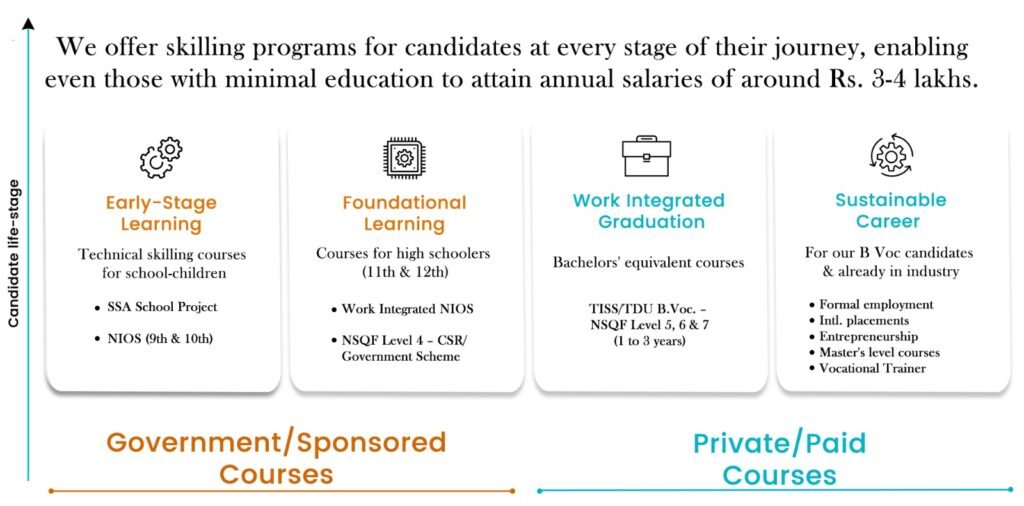 We are a funded partner & placement partner of NSDC
We have created some of the most innovative training curriculums in the electronics & telecom domain. We started a B Voc curriculum for Electronics Manufacturing (again a 1st of its kind in India). We have been imparting employable skills in the fields of Consumer Electronics, DTH, Mobile Repair, Home Appliances (including Refrigerators, Aircons, Washers, Dish Washers, Water Purifiers, Gas Hobs & Micro Wave Ovens), Solar Panel Installation, IT Hardware & Networking, Optical Fibre Splicing & Broadband etc.
Recognition of Prior Learning/Up Skilling Programs: These range from 1 day to 15 days (NSQF level 3 to 5, certification done by NSDC, Sector Skills Council or Funfirst)
Short Term Training: These are typically 250 to 400 Hrs training interventions followed by On Job Training for 30 to 90 days. (NSQF level 3 to 5, certification done by NSDC, Sector Skills Council or Funfirst)
We run 3 work integrated graduation program in partnership with TISS – SVE across 13 centres in India. Our students get Diploma, Advanced Diploma & Graduation after 1st, 2nd and 3rd year respectively, these are:
We are in currently developing PG programs in Industry 4.0, Smart Factories, IOT, PCB Design & Manufacturing. Certificate & Diploma courses from Maharashtra State Board for Vocational Training in 3 D Printing, Teacher's training & Electrical wiremen.
Entrepreneurship Development Program
Train the trainer programs for DVET Maharashtra (across ITI and Vocational Schools in Maharashtra), UP Skill Development Mission, Voltas Limited.
Safety – First Aid, Fire Fighting & Disaster Management Programs.
Promoting Apprenticeship as Third Party Aggregator (TPA) recognized by MSDE.
We provide industry responsive vocational skills and products to increase employability and productivity quotient for the youth. We take 10th/12th/ITI pass candidates typically coming from underprivileged background and impart them relevant training in emerging sectors to enable them to get meaningful employment.
The process involves mobilisation, counselling, enrolment, training, on job training, placement, and post-placement tracking.